User#
Step into the practical world of AI-powered document automation. Our platform is designed to make your document workflows more manageable and efficient. With advanced AI tools at your disposal, discover a simpler, more straightforward approach to document handling.
Exploring the Marketplace#
The Marketplace is your entry point to document automation. It features a broad selection of "Join Now" and "Request Access" Listings, each catering to diverse needs. These AIs are not just tools but comprehensive solutions that aim to improve your document management process. Start your exploration and find the AI solution that best suits your requirements.
Pretrained Projects#
Pretrained Project Creation Screen

Pretrained Project Creation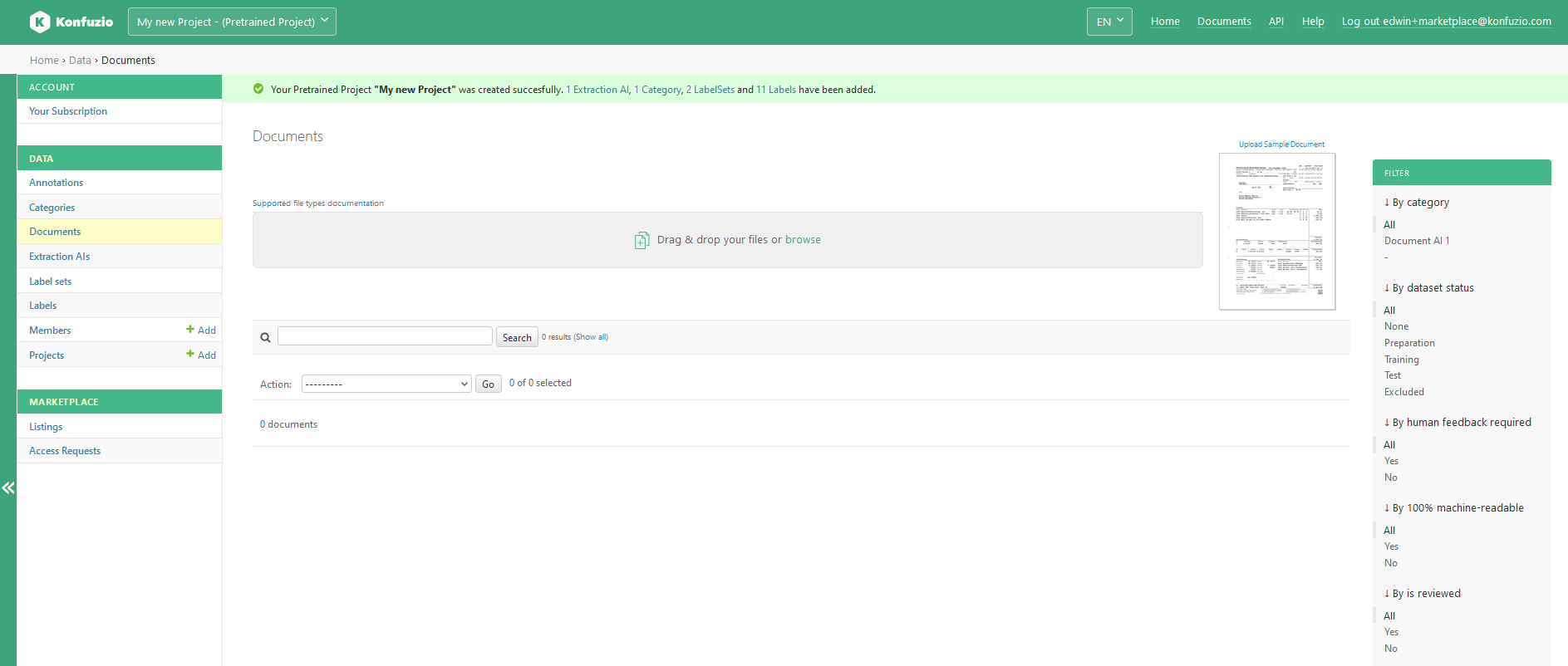 Pretrained Projects are a key component of our AI Marketplace. They are custom-tailored Projects that aim to simplify your document automation journey. With each Pretrained Project acting as a distinct entity, your uploaded Documents remain separate and organized. You have the freedom to create multiple Pretrained Projects, according to your needs. Please note, though, that importing a "Join Now" or "Request Access" Listings AI into an existing Project is currently not possible.
Pretrained Projects
Please keep in mind that Pretrained Projects can only be created from "Join Now" Listings.
Once you have created a Pretrained Project, two things happen.
You will find a Sample Document for testing purposes in your Pretrained Project.

You will join as a Project Manager with special Permissions named "Manager in Pretrained Project".
Sample Document#
In every Pretrained Project, you'll find a Sample Document. This document serves as a useful example of the Extraction AI's capabilities. If you're out of documents but want to test the AI, you can use the Sample Document. Just click the link above the Sample Document and the Pretrained AI will handle the rest.

Member Roles in a Pretrained Project#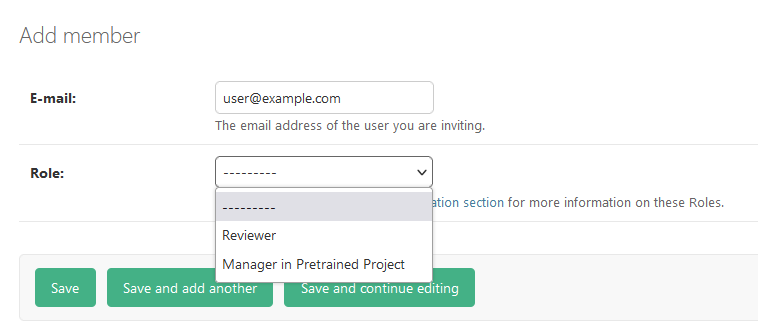 Once you create a Pretrained Project, you'll be assigned the role of "Manager in Pretrained Project". This role offers a specific set of permissions, enabling you to interact with the Project while maintaining the AI's training integrity:
Document Upload: You can upload new documents into the project for processing.

Annotations: You're allowed to create, modify, edit, and Project annotations as needed.
These permissions ensure the AI continues to operate at peak performance, as initially trained by the Publisher. Notably, alterations to the API names of labels, label sets, and categories are not permitted in this role, helping maintain consistency and accuracy in the AI's operation for your specific use case.
Current Features#
At this stage, our Marketplace primarily supports Extraction AIs. These AIs are experts in retrieving valuable information from your documents, which makes them an optimal choice for automating your data extraction tasks. As our platform evolves, we look forward to introducing more types of AI to further enhance your document workflow capabilities.
With this knowledge, you're ready to navigate the Marketplace and harness the power of trained AIs to optimize your document workflow. Welcome to a more efficient way of handling your documents.