Improve Extraction AI#
You have trained your first Extraction AI? Great, now we will support you to reach 90 % + accuracy.
Reaching high levels of accuracy will provide you with a trade-off. Either you invest time to review your training data over and over again vs. gaining accuracy by doing so. This tutorial does not only how you improve accuracy but also provides you with an indication of how much time you should plan to invest.
Prerequisites#
At any time make sure to check the following:
Per Label you should have 10 Annotations otherwise those Labels will not become part of your AI. You can see the number of Annotations on the Label Page .

Make sure you have an equal amount of Annotations per Label. In case one Label does not occur in every document, an unequal distribution is understandable. If a Label appears less often it will be predicted with lower confidence in the beginning. The more documents are added to training the higher the confidence for this label will become.

You should have more Status: Training documents than Status: Test documents, at least you need two.
Those checks will not improve the accuracy but create a solid base to improve the AI.
Extraction AI setup#
This step might feel surprising. If you reupload a document which was used by the AI to learn. Interestingly this is the fastest procedure to check if the AI can understand what how you are teaching, i. e. labeling the document.
When you reupload a document from the training data, your expectation should be every Annotation you created manually should be recreated after upload. If this is not the case the structure of your AI seems to be inconsistent.
On the left side you see the Training Document on the left side you see a copy of this document newly uploaded: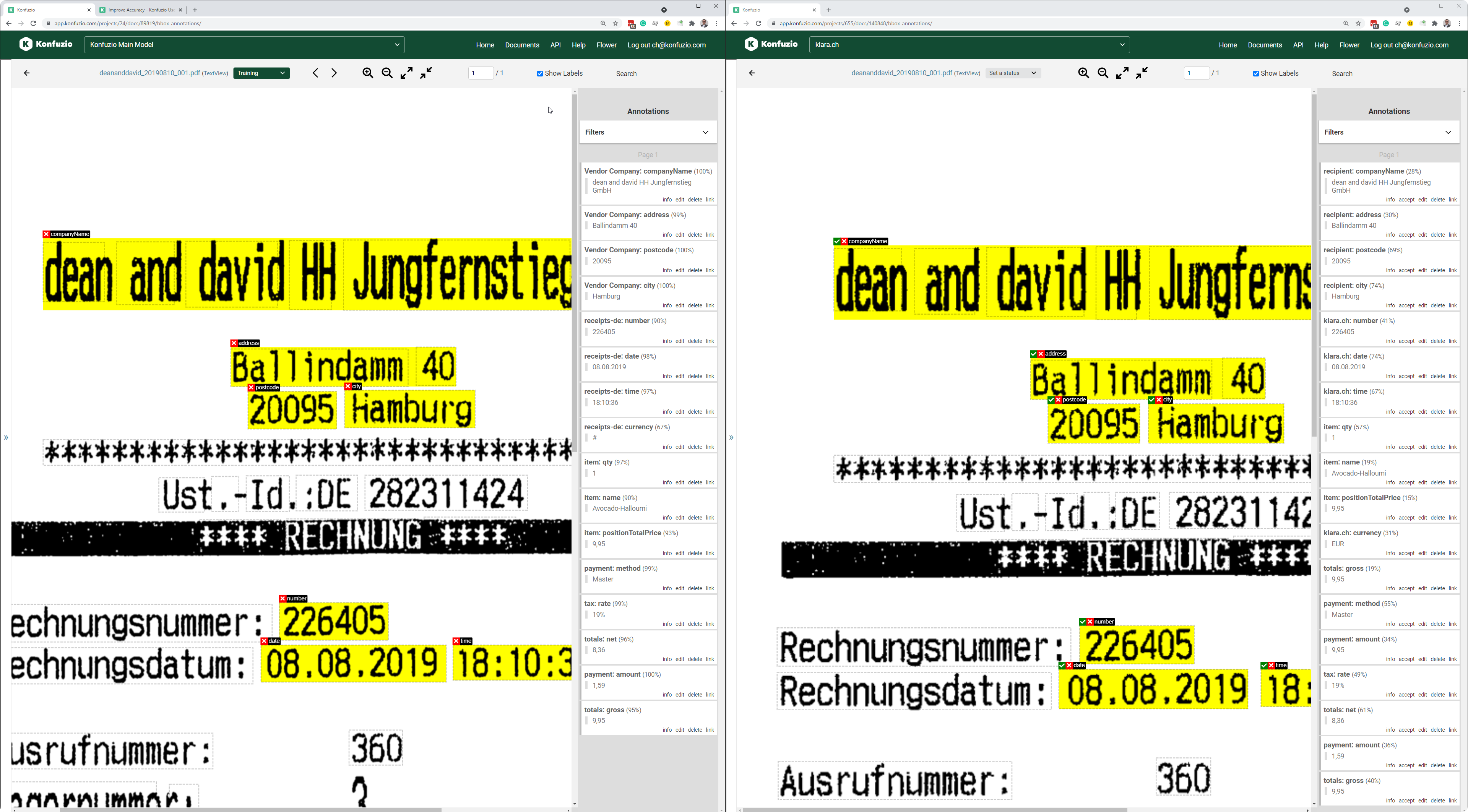 Make sure to see similar results as in the training data
When the model does not learn the structure you have labeled you need to review your Categories, Label Sets and Labels. Something seems to be wrong.
Background information#
The Konfuzio AI does not work rule-based, but result-oriented. It considers the training data as the desired result and will set up rules for itself in order to apply them to new documents and to try to achieve a corresponding result. In order for it to be able to recognize clear structures in this process, a clearly structured approach should also be taken during the manual labeling. Irregularities will cause the AI to search for rules and structures that do not exist, making it more difficult for it to make the right decisions.
The more uniform or homogeneous the documents are among each other, the more accurate the results are. Standardized or normed documents are optimal. However, this is usually not the case and is out of one's control. In principle, this is not a problem for Konfuzio, but it means that the importance of the quality and quantity of the training data increases with the heterogeneity of the documents.
Change the mode of extraction#
Try to change from the Default "Word" to "Chracter" setup, see Detection mode of Extraction AI.
It is not for sure, but some users report they see an increase of performance of 10 % when switching to "Word based".
Use automated Annotations#
Let's assume you started with a small number of Labels you want to extract, e. g. gross amount and date. After a while you find out you need to label "VAT ID", too.
What we see in this scenario is, users forget to add the new Label to documents they have already labeled. The great thing is, once you have trained an AI you can "rerun" it on an document. By doing so the model will suggest additional Annotations you did not yet create. The model will never overwrite Annotations you have created or revised manually.
For example, for monetary amounts in receipts, you should either always label the currency (e. g. the euro symbol) or always omit it. It does not matter which way you choose. It is important to do this consistently in all documents and also within a document. Of course, this also applies to other units such as kg, m2 etc. and other composite information.
How to rerun a model:
Go to Documents and select the documents

Select "Rerun extraction"

Press "Go" and wait for the extraction to finish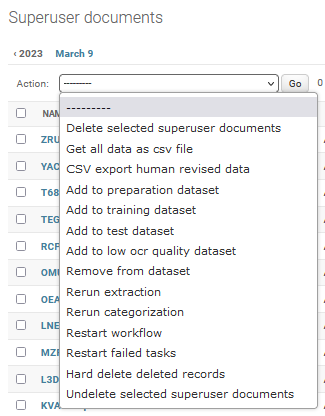 In case the model created new Annotations you will see their number as "Feedback required".

Enter the Smartview and filter for "Feedback required" to review the Annotations created by your AI.