Publisher#
Take on your role as a key contributor in the field of AI-driven document automation. As a Publisher, your sophisticated AI solutions can profoundly transform users' document workflows. The Konfuzio AI Marketplace serves as your platform, enabling you to reach a varied user base and translate your AI expertise into practical, user-centric products.
Becoming a Publisher#
Taking the step to become a Publisher in the Konfuzio partner ecosystem is your gateway to influence the world of document automation. If you're excited by AI-driven transformation and process simplification, we invite you to explore partnership opportunities with us. Please note that during the Alpha phase joining is currently by invite only. If you share our enthusiasm for leveraging AI, we encourage you to connect with us here.
Upon becoming a Publisher, the Marketplace option will be available in your Categories, enabling new opportunities.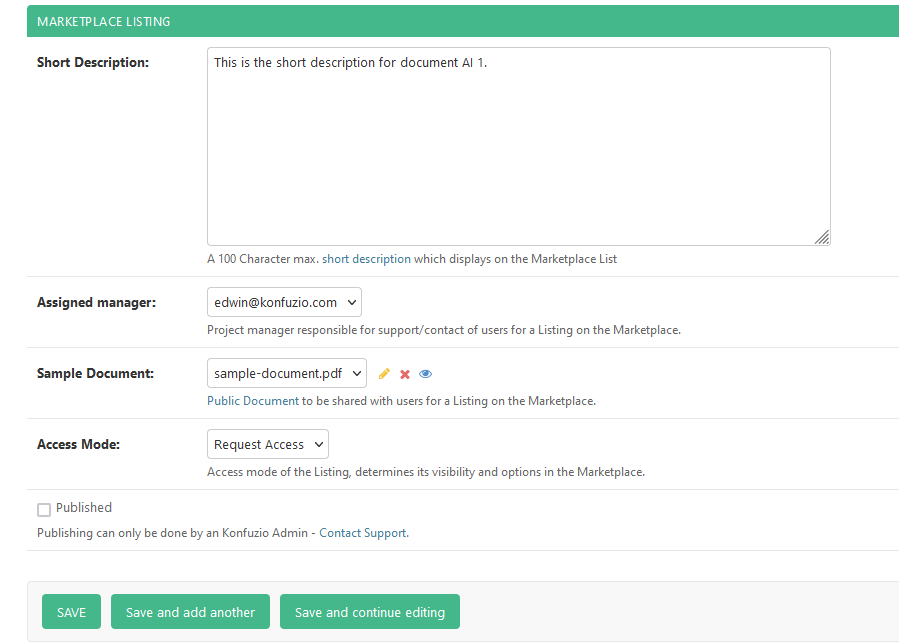 Introduction to Marketplace Publishing#
Access Requests Management#


As a publisher of "Request Access", you'll be handling access requests from users. These requests pass through three stages: Processing, Approved, and Rejected. Proper management of these requests can enhance the reach of your AI solutions in the Marketplace.
Processing Requests#
When a user's request for access to your Request Access Listing is sent out, it enters the "Processing" stage. At this point, any Manager within the Projects Listing can view, Approve or Reject these requests. Do keep in mind, that it is only the Assigned Manager who receives the access requests.
Approving Requests#
If you decide to approve the request, the user who send out the request will automatically be invited into the respective Project as an "AI Guest. This happens automatically, after the Access Request has been set to "Approved". By design, as an AI-Guest, the Publisher will be able to see all uploads and actions performed by the user within this Project.
Rejecting Requests#
If you choose not to grant access, move the request to the "Rejected" stage. It's beneficial to communicate your decision to the user, along with a brief explanation if possible.
Effective management of access requests is essential to expanding the influence of your AI solutions, enabling you to share your expertise with a wider audience.