Roles & Permissions#
Roles#
This allows to set up Roles for the Konfuzio Server instance. Every Role contains Permissions. There are two ways to define Permissions. Project based Persmissions and global Permissions.
Project-based Permissions: Superusers, as defined by the Django documentation, can assign Permissions to Roles. Technically, those are called Role Permissions. Project-based Permissions define what a User is allowed to do as a member of a project. These Roles are set when inviting Members to Projects.

Global defined Permissions: Superusers, as defined by the Django documentation, can assign Permissions to Users via (https://docs.djangoproject.com/en/4.1/topics/auth/default/#groups) or directly to a User (without a Project context) as Direct Permissions. Global permissions define which permissions one user has accross all projects.
Available Permissions#
Special Permissions:#
These type of Permissions cover view, change, add and delete rights related to certain user. In detail, these permissions refer to Konfuzio Server modules created by user, assigned to user, belonging to user or invited user.
General Permissions:#
Apart from the special permissions, for every Konfuzio Server Module view, change, add and delete are present as general Permissions.
Module Permissions:#
The Konfuzio Server modules mentioned in General & Special Permissions are defined as follows:
How to get to the Roles#
The Superuser can create custom Roles. If you have Superuser rights, you will see under AUTHENTICATION AND AUTHORIZATION in the sidebar, the link to the Roles.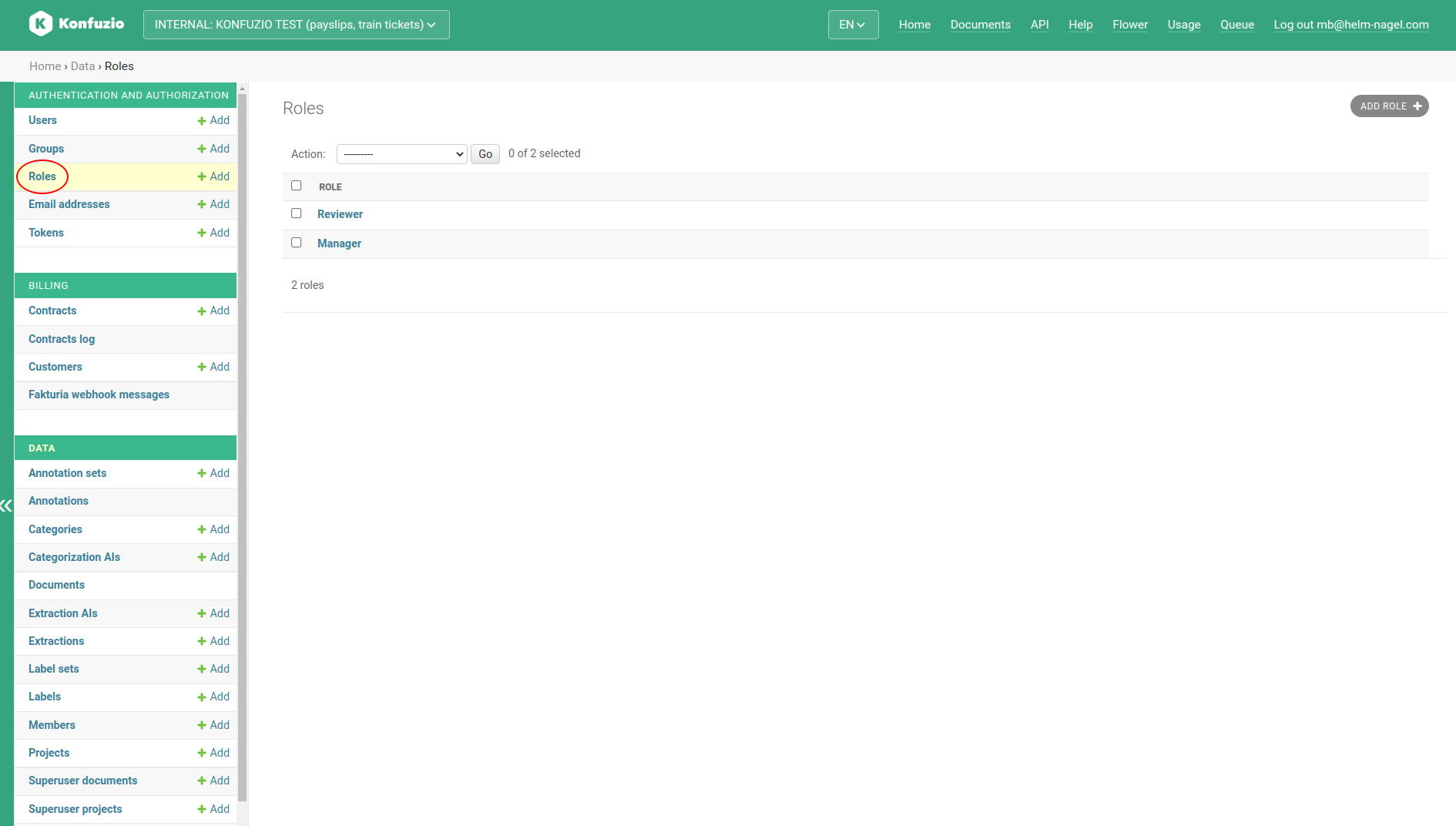 As soon as you have pressed the link of the Role, you will see the available Roles as shown in the graphic above.
How to create custom Roles#
To create a custom Role you have to click on the "ADD ROLE" button. After that, a Role name should be set and the creation is completed by clicking on "Save".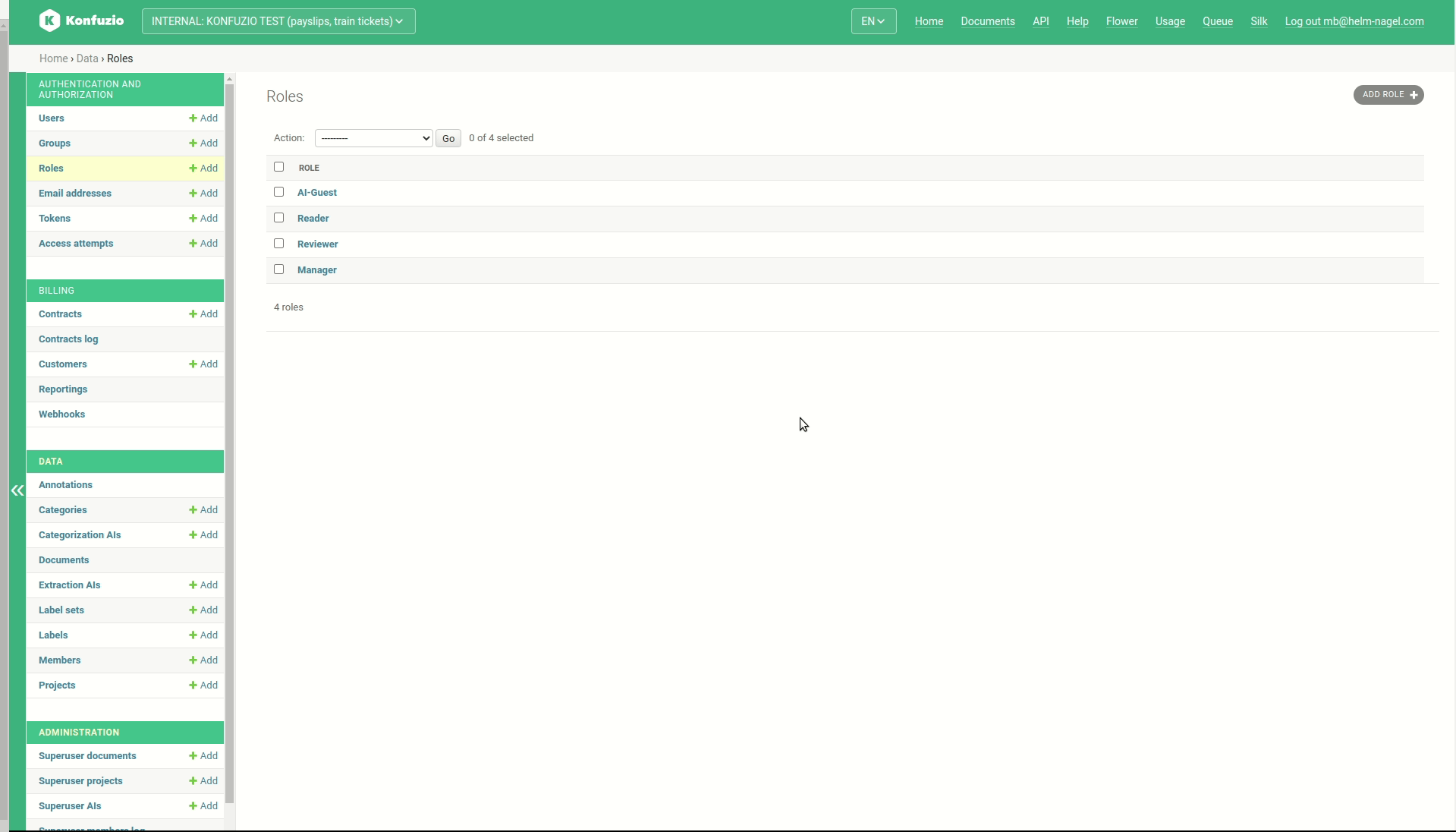 How to assign permissions to Roles#
Next, the Superuser can also assign the Permissions described above to the customly created or already existing Roles.
If you now click on these Role entries, a view opens in which you can see all the Permissions assigned to the Role: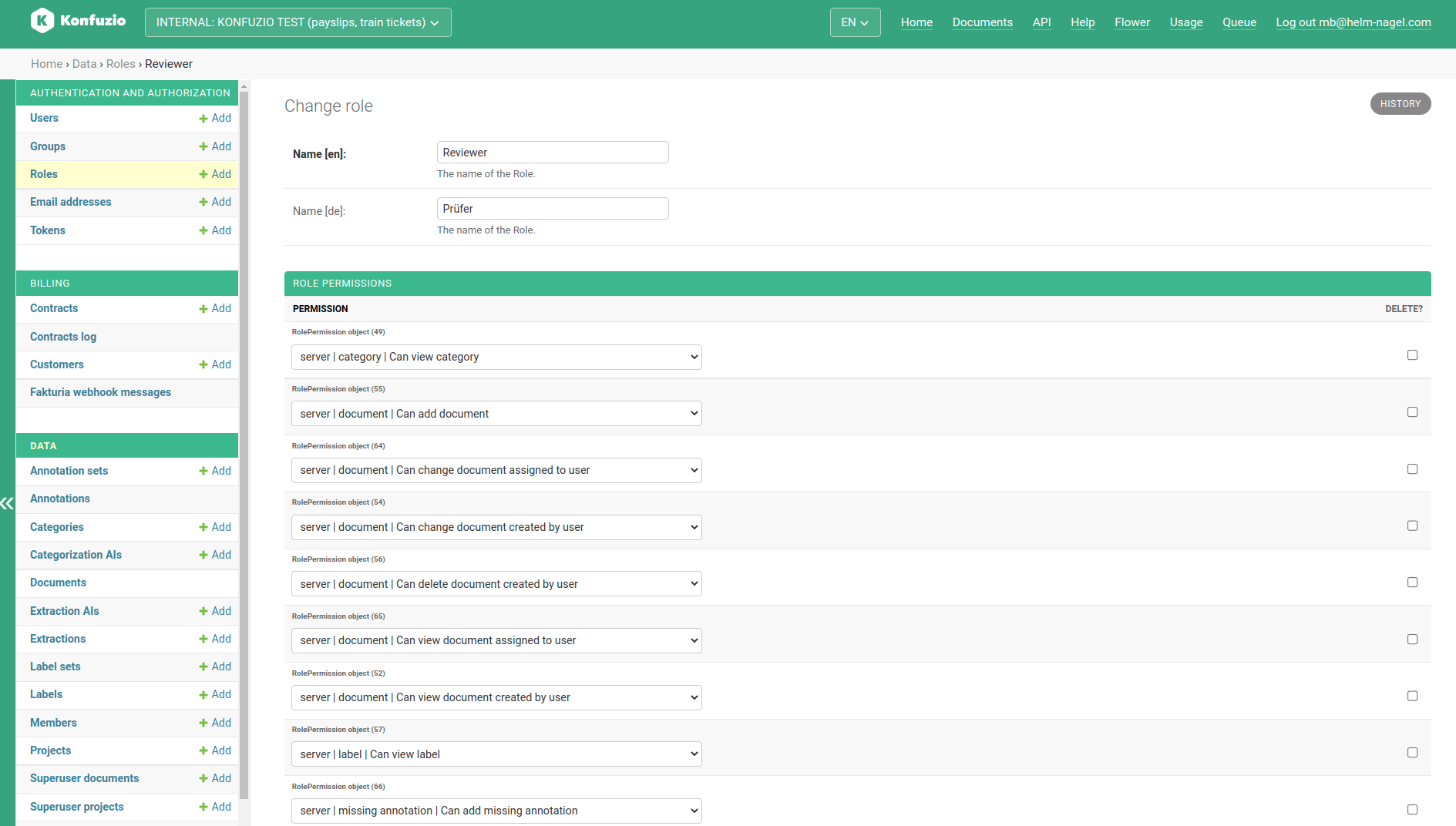 If you want to remove a Permission, click on the checkbox of the relevant Permission, scroll to the bottom of the list and then press "Delete".

In addition to removing a Permission, you can also add more of the Permissions shown above, provided these are not already assigned to the Role. This is done via the "Add another Role permission" link at the end of the Permissions list, as shown in the graphic below:

Finally, you only have to confirm the addition of the Permission with the "Save" button.